Marked by revolutionary infrastructure, certification, and strong ethics
MMCPL adheres to strict quality and safety standards in its manufacturing and supply processes. It has crystallized these standards in 5 commandments – policies – that guides the company in delivering its promises and benchmarking its service. 
Manmohan Minerals & Chemicals Pvt. Ltd. is committed to Manufacturing and supply of MnO with Feed safety and quality to consumers for customer satisfaction.
We continually strive to improve the Feed safety and quality of MnO and operations ensuring appropriate processes, appropriate raw materials and competence of the personnel involved.
We regularly ensure that our products meet customer requirements and comply with applicable statutory and regulatory requirements.
We regularly review our product Feed safety and Quality through effective implementation of Feed Safety & Quality Management System (FAMI-QS).
We will take the necessary actions for preventing feed fraud/ adulteration and feed defense. We will continuously improve the effectiveness of the Feed Safety & Quality Management System through establishment of Objectives.
MMCPL first attained the FAMI-QS Certification in December 2010. It has successfully renewed the Certification ever since. Bureau Veritas carried out the latest audit in December 2022 and found the Company in full compliance with Version 6.0 of FAMI-QS standards. Consequently, MMCPL's FAMI-QS Certification was renewed till January 2026.
FAMI-QS Certification is applicable in sectors dealing with speciality feed ingredients and related mixtures. It establishes the credibility, safety and quality of the product to multiple stakeholders.
Focusing on the increasing demand for high-quality Manganese Oxide, MMCPL set up an automatic rotary calciner in 2018 at its Butibori Unit. This automatic calciner  (Rotary Kiln) promoted the use of cleaner fuels in place of coal and reduced labour dependence. 
The Rotary Kiln installed by MMCPL is the first machine of its kind installed for reducing Manganese Ore in India. Built by our skilled engineers using technology developed in-house, the rotary kiln is running successfully under the guidance of our capable technicians.
The highly automated process flow has eliminated the use of coal (thereby reducing harmful emissions) in our production process and has reduced dependence on labour by 65%. 
Initially, the Rotary Kiln was started as a pilot project with a limited 7500 MT/year capacity. MMCPL plans to increase the Kiln size to 25,000 MT/year in the next two years.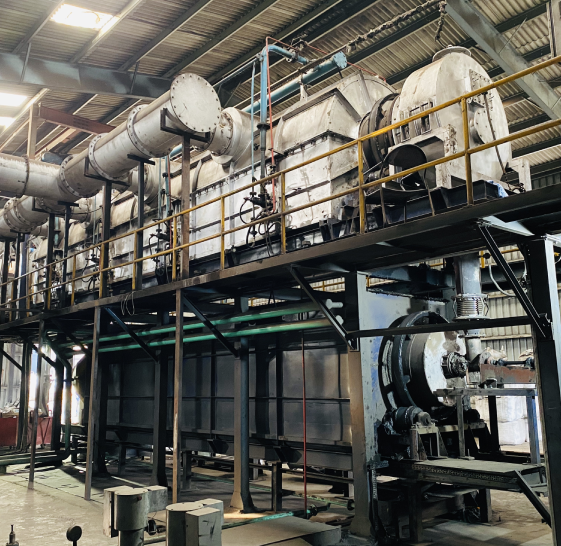 A state-of-the-art laboratory doesn't just provide the resource and equipment for successful
Advantage of the experience – Sourcing from the best locations only to ensure high quality products. Evaluation of the 100s of manganese mines and figuring which ones lead to the best finished products. We only use the most premium raw materials.
Employing the best raw materials processing systems & processes.
A state-of-the-art laboratory is a prerequisite for quality assurance,  cutting-edge research and new product development. With the above in mind, MMCPL has invested heavily in its laboratories. They are equipped with the latest equipment like ICP-OES, UV Spectrophotometer, Atomic Absorption Spectrophotometer and more. 
The personnel manning these machines are well skilled and trained in their operation giving credibility to the accuracy of our test procedures and results.
Following are the parameters regularly tested at our facility:
Sr

No.

Parameter
1
Manganese content
2
Manganese Dioxide content
3
Iron content
4
Silicia content
5
Heavy Metal Content (As, Pb, Cd, Hg etc.)
6
Mesh size
7
MnSO4 Assay
8
pH
9
Organic Matter
10
COD content
MMCPL harbours the trust of customers in over 50 countries. Exports to these countries require strong packaging. To ensure that the material reaches the company's overseas customers properly, MMCPL takes special care during packaging and dispatch. 
The material is packed in 25-50 KG HDPE/paper bags or 1000–1250 KG HDPE jumbo bags as per the client's requirements. It is then palletised onto wooden pallets and shrink-wrapped to safeguard from moisture and other contamination. Before palletisation,  wooden pallets are fumigated, and a certificate obtained for the same. Finally, the pallets are safely loaded into containers with the utmost care to ensure that bags do not suffer damage.